As we move to take a larger role as an SEO company, we have updated our SEO dashboard so our clients can have more control over their SEO packages on our site. We are very proud of these new features which help make us one of the most transparent SEO companies in the e-commerce market space. Our new dashboard, along with delivering top quality results, will make us a valuable partner in increasing the traffic and sales to your site.
How it works
When you sign up with a SEO package from us, you will have a new menu item in your account called SEO dashboard. From this menu item you can see the progress of your SEO campaign, with a list of the deliverables for the month. Below is an image of what you will see in your dashboard.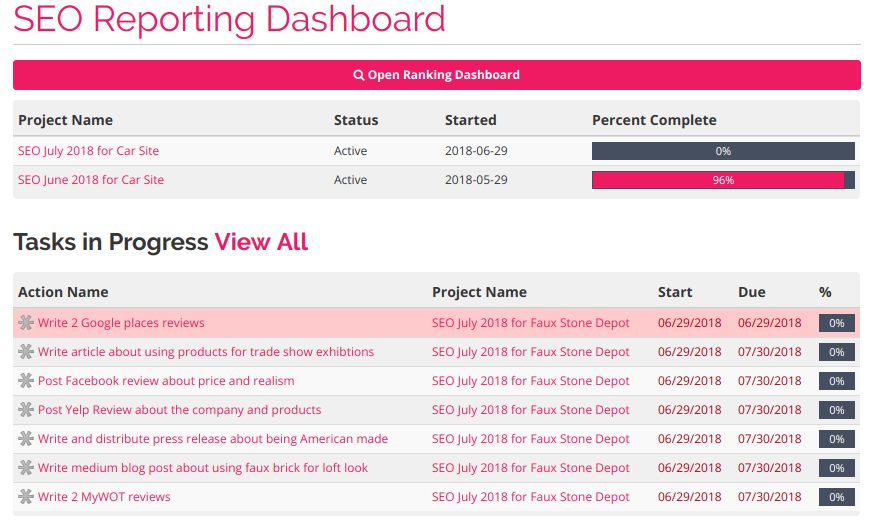 From the main SEO Dashboard you can see each month of SEO you have signed up for, while below that you can see some of the tasks in progress. If you click into one of the months of SEO that you signed up for, you can see a more detailed view of what was done in that month.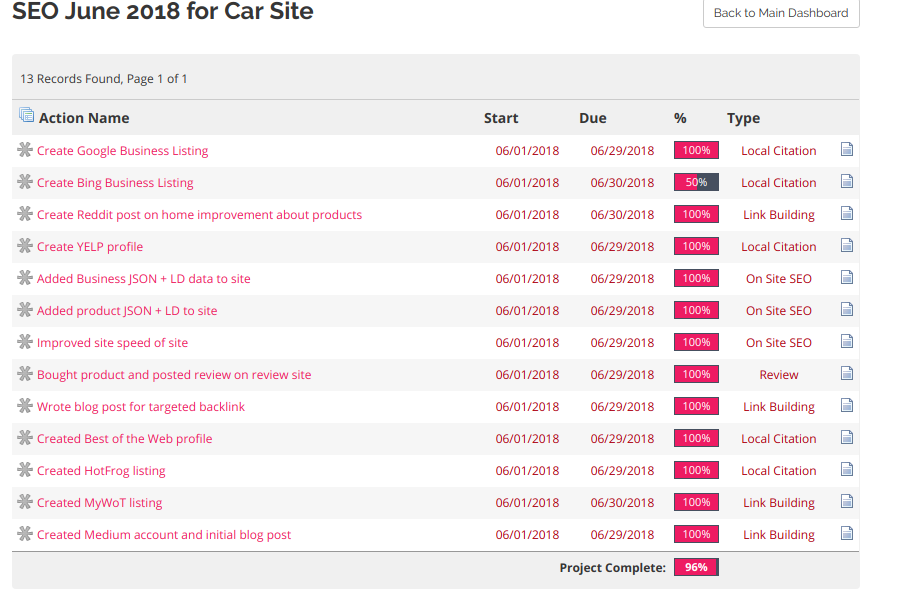 This makes the way we handle SEO more transparent to our customers, while also giving them the ability to ask specific questions about their SEO or also work along side us on their site's SEO. If you notice the tasks in the list, our SEO is all encompassing. It is not just on site SEO or just off site SEO. We evaluate each site individually and come up with a plan specifically for each site. This individualized approach allows us to produce the best quality results for our customers. At the beginning of each SEO term we will populate your account with the SEO projects we will be undertaking for the month, that way if you have any questions or concerns you can reach out to us. As the month goes on you can follow the progress of the SEO and see as each step is completed.
On our dashboard we have even added two heads up stats views. The first allows you to see your site's current Moz domain authority rank, Page Authority rank, and Moz Trust rank. It appears below the SEO tasks in your account like the image below.

Below the Moz rankings on your dashboard you will also have a daily rank from the search engines as well, so you can track your site's position in the search engines. This will give our customers the ultimate daily heads up snapshot of their site.
We feel like with our comprehensive packages that are targeted and developed for each individual site we are one of the best choices for SEO for your e-commerce site. We have years of experience in SEO and marketing that we can leverage to help your site succeed.