In our quest to offer better PrestaShop services and modules, we are happy to announce that we are offering server monitoring now. With our server monitoring you will know if there is ever a problem with your PrestaShop site not being reachable to your customers. We even have customizable alert options with our server monitoring as well.
The Network
We have a network of 3 server locations around the world that monitor your site's up time. Our server locations are Singapore, Amsterdam, and New York City. By having them spread out around the globe we can more effectively monitor your site and we can also tell if an issue is a localized or global issue. At the same time we can lose two servers and still be able to effectively monitor your uptime, since they are set up to failover and the monitoring is replicated across all of the servers.

How it works
The set up is very simple, we offer a couple of different plans and we also offer SMS credits to go with our plans. You can view the plans here View PrestaShop Server Monitoring Plans. The plans come with a number of what are called checks. Each check is a site or a page that you want to monitor. The standard plan comes with one check. The Advanced plan comes with 5 checks. The checks can be all used on the same site, or spread out among different sites.

With the notification lists you can notify different people if different sites or pages stop responding. The lists support multiple people per list and you can use a different list for each check. If you buy SMS credits you can notify them via SMS messaging as well.

Versatility
There is a versatility that is built into our checks that is not immediately apparent. With the checks you can not only manage your website, but you can manage services that your site depends on as well. Shipping API's are an important aspect that you can monitor as well. Not many shop owners know it, but if your shipping API goes down, users cannot place orders on your site. It means your site is effectively dead. We recommend setting up some failover carriers in case your API goes down and you need to activate them to keep your site online.
With Support
If you are one of our PrestaShop Support clients your plan comes with a free 5 check monitoring plan for as long as you are a client. Your checks can also be configured to open a support ticket automatically with us in the event that your server becomes unreachable. Doing this will allow us to start working on the issue immediately and we will be able to bring your site up with the least amount of down time. This is another way we are improving our service to better serve our clients.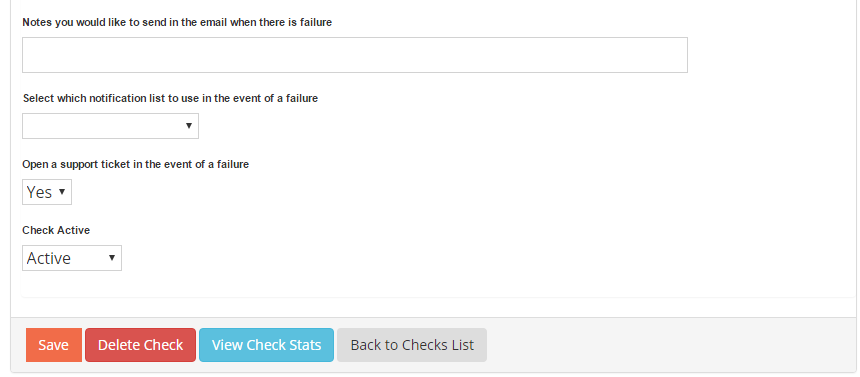 Conclusion
Running an online  business has a great deal of challenges, one of them is keeping your website online. It is impossible for you to monitor it every second of the day, so let us take that over for you. Would you know if your site went down all night one night? Most hosts actually have an uptime guarantee and will refund your month of hosting fees if they do not meet it. You will have to have records of this, and our uptime monitor keeps these records for you. It is a win / win situation monitoring your site with us.