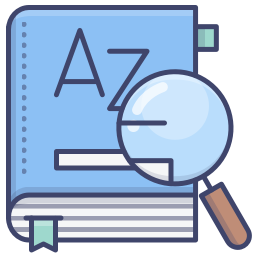 In the last month I have seriously been considering closing my MOZ account down.  The main reason is the Mozscape index. I keep on building backlinks to my site, I keep following the best practices, but nothing happens. Ok, I said nothing happened, I meant to say that my score declined over the past few months. This has been pretty frustrating to me since one reason I imagine it has declined is because none of my backlinks are in the index. I am not talking "fresh" backlinks, I am talking about ones that have been around for a year to 9 months. How could those links not be in the index? Is the index that small where it takes over a year for something to get indexed?
Here is the part about the whole situation that baffled me. The links have a MOZ Page rank. I know with some it could be a case that MOZ ranked and indexed the pages before I had a link on it. That totally could have been the case with some of them, but the part about it that baffled me was this; they were profile links. I know, I know profile spam is held in low regard, but these were not spam links. Here are a sampling of the links I am talking about.
My MOZ profile. (I have had over 500 points for 5 months or so, so I was stoked about it being followed)
http://moz.com/community/users/478647
Nibbler Link. I tested my site out on Silktides Nibbler sometime around April. It is actually one of the top rated sites and has been in their top 25 since then.
http://nibbler.silktide.com/reports/dh42.com
My WordPress profile. I asked a couple questions on WordPress's forum, nothing major, but still the page has a PA of 46 on a domain with 100 DA.
http://profiles.wordpress.org/designhaus42/
One of my New Years resolutions is to be more active on social media and yesterday I really needed something to post. I ended up posting a link to my MOZ profile and a short tweet about it. It was in the Just-Discovered links within the hour. I was stoked; this page has a 46 PA on a 92 DA. Then I thought, "Hey, why is this page even ranked, but not in my index".  I haven't edited or added the links since I set up my profile in February, so it should at least be a non-followed link in my index. Nope.
So I did the next logical think I could think of, I started tweeting my backlinks. They got indexed! After I tweeted a few links and they all were included in the Just-Discovered links section I started thinking about it. Having these new links will end up changing my DA next time that Mozscape updates. But let us further manipulate it. Shopify has great DA, it is 93. Also the link for your profile is actually under your name in a post, like a signature. The kicker is they do not paginate in their forum, so old posts have great PA on a domain with awesome DA. So the next thing I did was tweet a post I made last week on a hot topic. To give full disclosure I made the post, because I saw through Mozscape the page had decent authority. I wanted a back link on the page basically. After a few minutes that link was in the Just-Discovered index as well. Awesome, I know my DA has to rise next time, because these are the things that they are based on.
When I started writing this post, I posted another comment on the Shopify forum and tweeted about it. I found a page with good PA and made a relevant post, nothing spammy. Then I tweeted the url. By the time I finished the paragraph above, it was in the index. To me that means I could go around posting links anywhere I could, forums, comments, and other places. Then all I would have to do is tweet them and they would be in the index. If I really wanted to I could buy expired old domains with low DA, do this for a few months and flip them with a high DA. Or I could talk my clients into DA being the metric to judge my SEO success; I could take a new client with low DA and give them impressive gains. This is not how this system is supposed to work in my opinion, it basically makes using MOZ on a site with low to mid DA not worth it.
 UPDATE: Here is the post I posted on the Moz forum referencing the issue and their response
http://moz.com/community/q/how-you-can-manipulate-your-moz-da
Links
http://www.opensiteexplorer.org/just-discovered?site=dh42.com%2F
https://twitter.com/DesignHaus42
Images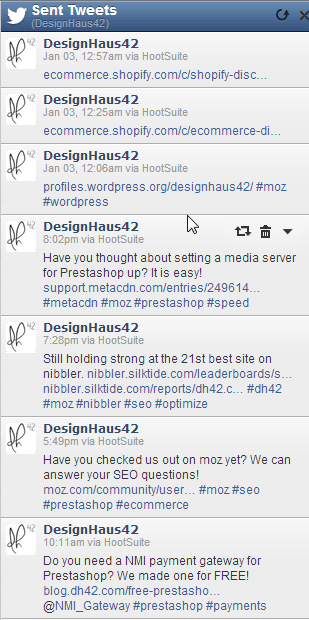 dh42.com/support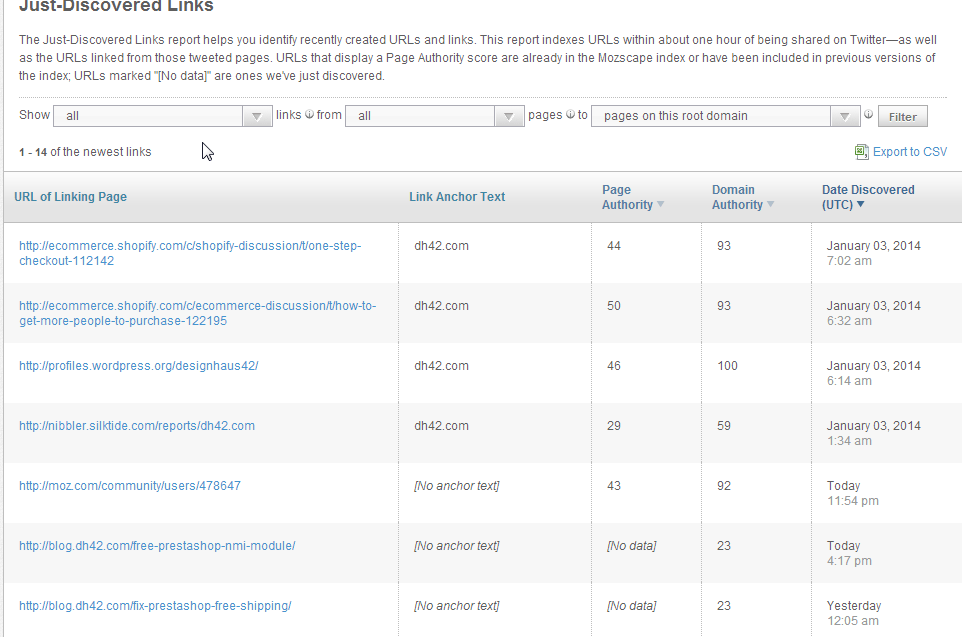 dh42.com/support
About the Author: Lesley Paone
Lesley has worked in e-commerce for over a decade, and is the founder of dh42. Starting out with PrestaShop and brancing out into other platforms like Shopify. He loves all things e-commerce and loves a challenge, in his spare time he helps moderate several forums on SEO, e-commerce, as well as the PrestaShop forum. If you have any questions for him about any of his articles just use our contact form to contact him.